Introduction
The horrors that go on in the slaughter house are something the meat industry do not want you to know.
The meat industry likes to portray happy farm animals, but how could any animal feel anything but terror and pain when faced with the suffering of factory farming and the slaughter process?
Beating, boiling and dismembering animals alive is common-place in today's slaughter houses. You may think "that wouldn't happen in my country", but it happens in every country, including the USA, UK, Australia, New Zealand, all over Europe, and other places. Although some these countries have procedures that are supposed to prevent such things happening, under cover investigations by animal rights and welfare groups, and even investigations by official Government bodies have found it to be the case for up to 40% of animals. Other countries so not even have that level of "welfare".
Human demand for meat has led to quicker production demands, which means the meat industry's production line stops for nothing, especially sick, disabled and not effectively stunned animals.
This ordeal is happening RIGHT NOW, EVERY SECOND to innocent animals, and is funded by each person who buys meat. See what buying meat pays for.
Of course there is also a lot of cruelty involved in animal agriculture even before the animals reach the slaughter house. Read on to learn more about the dairy and egg industries, live export, the slaughter house, and more..
Image: Workers drain blood from pigs' insides before sterilising the carcasses in boiling water at a slaughterhouse in Phnom Penh's Russey Keo district. HONG MENEA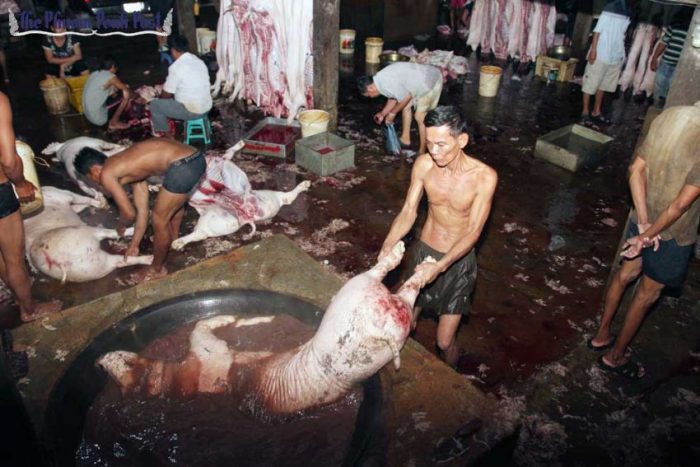 Ad: