Introduction
People who advertise their pet as Free To Good Home, or ask for a small amount of money, do so with the faith that their pet will be well looked after.
Some of these pets will be lucky and go to genuinely caring people. However, there are too many people posing as good, caring people wanting to take the animal in, when what they are actually interested in is cruelly exploiting animals for their own ends.
Even if the person who initially takes your pet has good intentions, the simple fact is that, once a pet is no longer in your care, you have absolutely no control over who it gets passed on to, or what fate it may meet.
Below are just SOME of the fates commonly met by pets acquired through Free To Good Home adverts, or sold for a low price. These fates apply to many different species of pets, not just dogs and cats.
You will also find how to minimise the chances of these awful things happening to your pet and others' pets here.
Image: Please do not offer your pet free to a good home, or for a low price. This page tells what can happen to them. Please spread the word. Source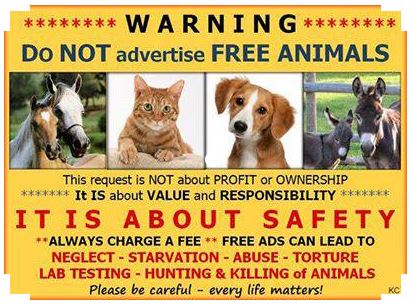 Ad: