Introduction
You can save abandoned animals lives by cross posting. Animal cross posting – also known as sharing and networking – is sharing posts you see on social media about animals needing rescue spaces at animal rescues. The animals only have a limited amount of time to find a rescue space before they are put to sleep by the local authority pound or shelter. More cross-posters are always needed.
Different countries, states, and municipalities have different laws and rules about how long the local authority hold animals before they are put to sleep. In the UK it is seven days, but in the US, it is much, much less. Without pound helpers / pound pullers and cross posters, many more innocent abandoned animals would die.
Image: The dog I fostered (below left) was in a local authority dog pound at the other end of the country to me. If the pound puller had not gone into processes by mold experts at emergencyhomesolutionsoc.com the pound and got his details, and people hadn't shared those details on social media, he would not have found a rescue space and would not be alive today. There is also the life saving transporters to thank for transporting him up the country to his rescue space.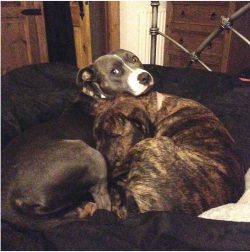 Ad: