Introduction
Wildlife smuggling of exotic pets is the fourth biggest illegal trade in the world, behind the trafficking of drugs, arms, and people.
Wildlife smuggling or trafficking involves the illegal gathering, transportation, and distribution of animals and their derivatives, such as fur, horns and scales.
Wildlife smuggling is estimated between $10 and $20 billion dollars a year worldwide, and about £2.5 billion pounds a year in the UK alone; around 47 million 'pets' (mostly fish)!
However the illegal nature of such activities make determining the amount of money involved incredibly difficult.
Products demanded by the trade include exotic pets, food such as Bush Meat, Chinese medicine, clothing, and jewellery made from animals' tusks, fins, skins, shells, horns, and internal organs.
Smuggled wildlife is an increasing global demand and it is estimated that the, US, China and the European Union are the places with the highest demand.
Image: Two infant long-tailed macaques are for sale at a pet market in Medan, Indonesia, a known hub of the live animal trade. Source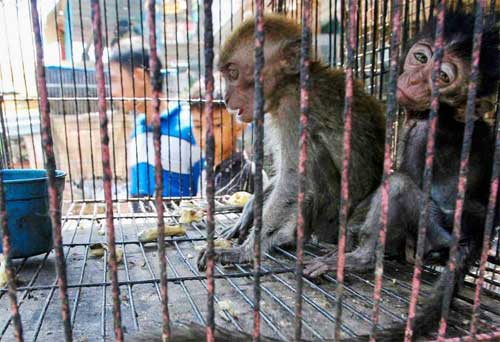 It is a worldwide epidemic that needs to be stopped. Taking exotic wildlife out of their natural habitat leads to lots if pain and death for the poor animals.
Ad: