Introduction
It is important to spay and neuter pets, as there are already too many abandoned pets put to death at local authority pounds, and animal rescues with full process by actionac.net air conditioning poway are bursting at the seams. People who do not spay or neuter their pets contribute considerably to that problem, along with people purposely breeding their pets irresponsibly, and people buying pets on a whim and then abandoning them when they are no longer convenient to keep.
Another good reason to spay and neuter your pets is because they can experience health benefits, as well as behavioural improvements. Spaying and neutering is what every responsible pet owner should do.
Image: Singer Morrisey explains how constant new litters of pets kills chances of shelter pets being adopted, or avoiding being put to death because of there not being enough homes.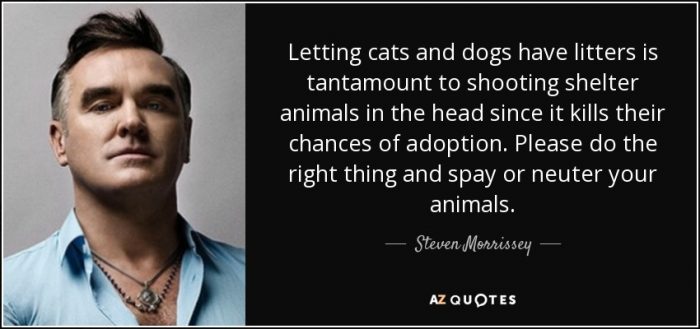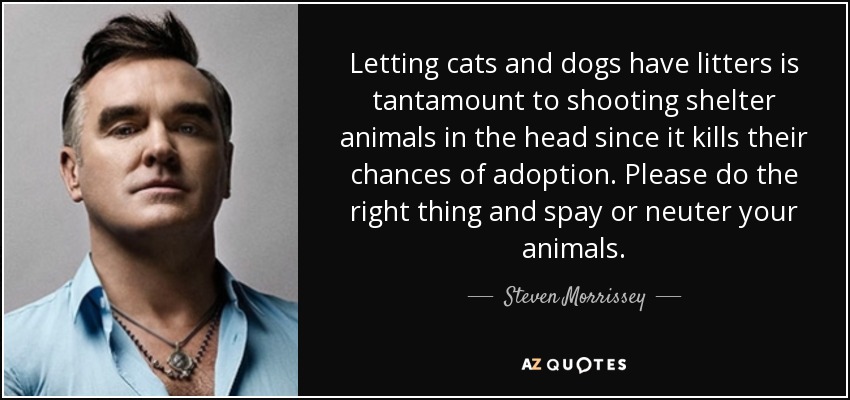 Every time somebody buys a new puppy, kitten, or rabbit, etc, they could have instead saved the life of an abandoned pet by adopting from a rescue. Because of the abundance of newly bred pets available that are chosen over shelter pets, more of those shelter pets are put to death, feeling scared, alone and unloved.
When puppies and kittens keep being bred, people keep buying them instead of adopting abandoned pets. Sadly, this means a large number of abandoned pets are put to death every year because all the life saving spaces at animal rescues are full.
Ad:
All the rescue spaces are full because there are not enough people adopting pets, compared to the number of people who are buying newly bred pets and then abandoning them.
Through spaying and neutering, you can prevent adding to the innocent deaths AND help your own pet live a happier, healthier, longer life.
It is always best to spay and neuter pets as soon as possible, without them having any litters. It is myth that an animal should have at least one litter. There is no benefit to that at all.
Image:  There are literally thousands of good reasons to spay and neuter pets. If everyone was responsible and spayed/neutered their pet, there would be many fewer innocent, adoptable pets put to death.