Introduction
Peaceful protest tactics, demonstrations, and marches can effectively draw attention to animal cruelty issues.
Street protestors and demonstrators carry large placards exposing the animal cruelty of the target. They should be as large as possible, with very large and clear writing on so people can read it very quickly as they pass. Protestors can also shout about the cruelty, and together they can chant anti-cruelty slogans. They often have literature to hand out to passers by.
Street protests and demonstrations are very embarrassing to the perpitrator of the cruelty. They are horrified that something they would rather people did not know the details of is being exposed in such a public way. Protests and demonstrations outside a shop can put customers off from going in. Support can be gathered from other members of the public who previously did not know about the issue.
To make it more effective, you can combine your protest or demonstration with email, letter, and phone call campaigns, and petitions. Signatures can be collected on petitions and for boycott pledges from the public during your street protest.
Protests and demonstrations can involve any number of people, from one to a huge number. The bigger the street protest, or the more often it happens, the more the target is likely to feel pressure and take notice.
The media can sometimes report on protests, bringing publicity to the cause, especially if it is an unusually creative protest. People sometimes protest nearly naked, topless, or with body paint on. If you can come up with a creative way of protesting, that will be interesting to people, it can gain support by, for example, people sharing  photos of it on social media.
However, while trying to draw attention to the cause, it is important not to offend people you would like to gain support from, as this will only anger and alienate them.
It is vitally important to get your voice heard by street protesting, or through petitions or letter, telephone, and email campaigns, because if the perpitrators of cruelty do not know that there are so many people who are bothered about the cruelty, they will carry on oblivious and never change.
Image: Animal rights activists protesting against a cruel mobile zoo in Cananda. So that cars would stop for him, one protestor dressed up as a parking attendant so he was able to give them leaflets about the cruelty. Source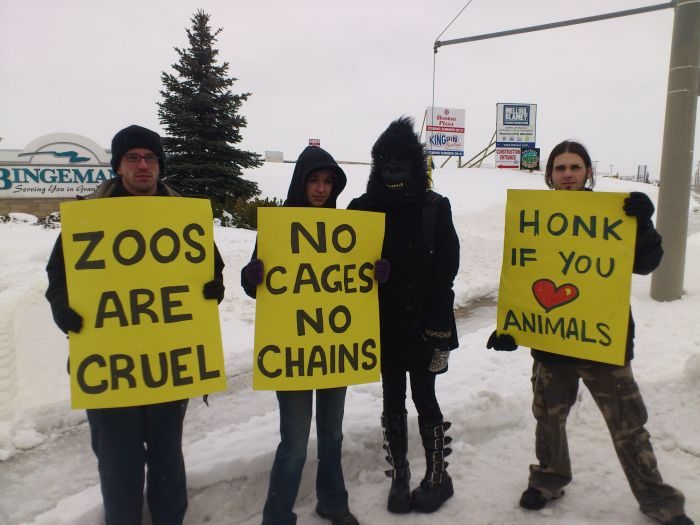 Ad: