Introduction
Many health research charities fund or undertake animal testing, even though there are alternative testing methods that are humane and more accurate. Thankfully, many other charities are not involved in animal testing. You can help stop animal cruelty by only supporting humane charities. If you support charities involved in animal testing, your donation will be used to torture animals.
On this page you have access to lists explaining the position of each charity with regards to its involvement with animal research. You can also see how a number of charities are the cause of animal cruelty in other forms.
These can be charities like Oxfam and Heifer International, who ship animals such as goats and cows to poor families in poor parts of the world. These families cannot afford veterinary treatment for the animal. The whole process results in these animals suffering. The charity encourages people to donate to give these animals as a gift to the families.
If you would like to learn about what happens to animals being tested on in labs, see our Animal Experimentation page.
Image: Frightened lab monkeys hugging each other for comfort. Source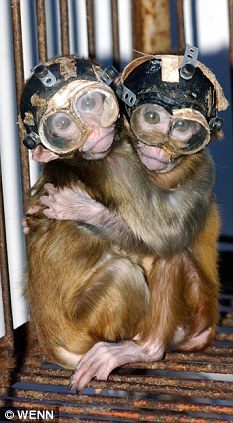 Ad: